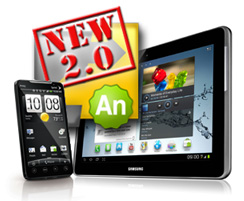 Mark/Space has released the newest update of its award-winning synchronization software for Android phone and tablet users, The Missing Sync for Android 2.0. The new version is fully compatible with Android 4.0 (Ice Cream Sandwich), features enhanced video, support for more tablets, a dynamic podcast plug-in, and various fixes and enhancements. The release of 2.0 also means that each purchaser receives three copies for the price of one.
The Missing Sync for Android 2.0 synchronizes Android phone and tablet users' information, files and media with their PCs or Macs via Wi-Fi, Bluetooth, and USB. Busy Android users save precious time because The Missing Sync for Android 2.0 syncs contacts, calendars, notes, tasks, music, video and photos automatically so that they don't have to manually update their information, files, documents, playlists, photo albums, and more.
We've also dramatically enhanced our proprietary automatic wireless Proximity Sync. Everyone knows how tedious and time-consuming it is to manually transfer and update data and files between their Android device and computer. The Missing Sync solves that dilemma. In fact, no other Android sync software automatically and wirelessly synchronizes with both PCs and Macs whenever the Android user's phone or tablet is within proximity (usually within 30 feet) of their computer. The automatic syncing can be customized based on what sync time intervals are set by the user. Read Full Article ...